The Actor
BIO - SAGAFTRA
Although Lou is a New York based actor he spends quite a bit of time in LA filming as well. With the full support of his wife Debbie, Lou decided to leave the corporate world of finance to pursue his passion of acting on a full-time basis. His first foray was to focus mainly on developing his "actors" instrument by honing in on fundamental skills. Since then, he has trained in LA at the
Aaron Speiser Acting Studio
, a studio Lou highly recommends; HB Studios in NYC, studying under the late
Jill Clayburgh
for Film/TV; and then back to LA at The Acting Corps to get a taste of Meisner. He continued to coach with Jill after classes ended at HB until her schedule became too demanding. Since his training days, Lou is a successful actor and can't believe he is living his dream, and because of that, he takes each day as a gift. Since his departure from the corporate world, he has come to realize, acting has been the toughest and most demanding career he has ever been in but LOVES every minute of it.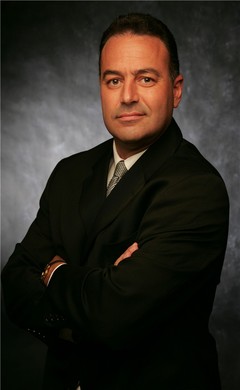 Lou comfortable in his corporate look
Equally as comfortable as the tough guy!